K21 Series
The K21 is a two wing revolving door, that can convert to an automatic sliding door at the flick of a switch.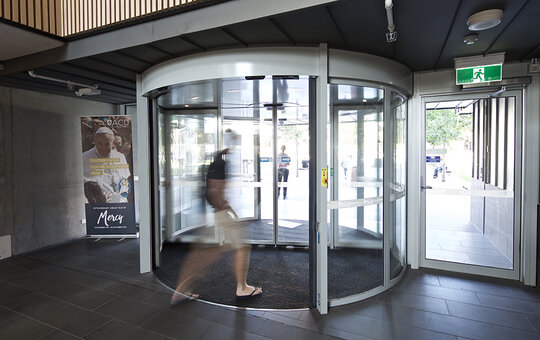 The K21 is a special two wing revolving door which provides spacious compartment areas to enable large numbers of people to use the door, while also making the door easier to use for people with shopping or luggage trolleys, for courier deliveries, elderly people and wheelchair users. It does all of this while still providing the environment benefits, and foyer comfort levels, of an air-locked entrance.
As many building managers only want the airlock benefits of a revolving door during the very hot and very cold windy times of the year, it's ability to convert to an automatic sliding door entrance sets this door apart from the competition. During more pleasant weather the K21 can be used as a full time sliding door entry, as it boasts the same quality and features as those operators used in dedicated automatic sliding door systems.
Standard inclusions are a full range of infrared and contact safety sensors to prevent the door from hitting an obstruction, as well as UPS battery backup to ensure continual operation during a power failure and to enable the door to convert to an alternate emergency egress route, or to provide smoke ventilation to assist in meeting the building's fire service requirements.
The K21 is an ideal main entrance door in a large number of commercial and institutional applications, in particular shopping centres, airports, sporting clubs and hospitals.