record FTA 20 – automatic folding doors
Our folding doors and their variants use another design principle of automatic doors. If there is only limited space for door leaves to open in the passage area, which excludes the use of sliding doors, an automatic folding door provides a good solution.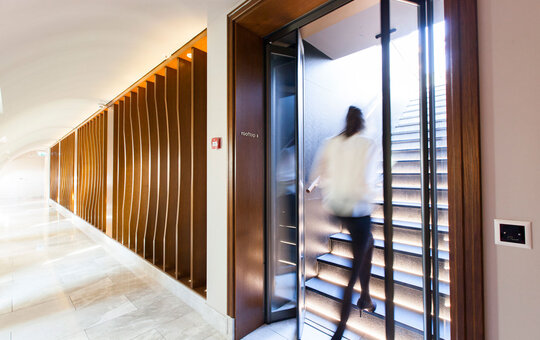 The width of passage can be almost fully retained. Automatic folding doors can be retrofitted relatively easily; they are designed to work particularly well when fitted in corridors. Depending on the total width available, the folding door is built as one- or two-sided. Typical applications for the record FTA 20 can be found in gastronomy, in the passage to the pantry, for example, or from the kitchen to the dining area, but a recent trend is to use the door to implement no smoking laws by separating non smokers from newly set up "smoking lounges".
Applications
The record folding door is ideal for narrow passageways in restaurants, hotels, business headquarters, hospitals and old people's homes.