record CLEAN
The record CLEAN series of hermetically sealing sliding doors are custom designed and built entrance systems, in both automatic and manual variants, suitable for meeting a wide range of requirements in clean room environments.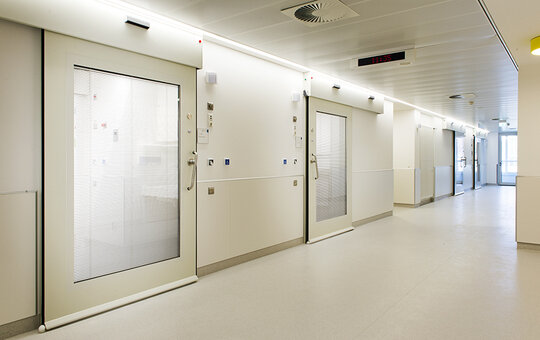 Hermetically sealing doors support the maintenance of a sterile environment and can be used in operating theatres, pharmaceutical production facilities, quarantine zones, clean rooms for the production of food stuffs and many other areas requiring a high level of hygiene. They help to prevent air flow between rooms and as a result the spread of airborne particles of bacteria
is significantly limited.
Operation
The hermetically tight closing doors roll on an overhead track with the door leaf supported at the floor by three rounded plastic guides, which are rotatable to reduce friction and noise. Shortly before reaching the closed position the door leaf lowers on the track downwards and towards the wall by a few millimetres to exert pressure on the door seals to press against the adjacent sealing surfaces, producing the hermetic seal. As the lower seal is flexible, it can to some extent compensate if the floor surface is not completely level and flat.
Design Options
With CLEAN, the sliding door entrance can be tailored to meet both the clients' practical requirements of a clean room entrance, with aesthetic features to ensure style is not sacrificed over substance. Some of these options include:
single or bi-parting sliding door systems, automatic or manual operation.
electrical or mechanical locking.
various door framing materials such as aluminium and stainless steel, in a range of coating treatments.
various door framing styles and sealing systems.
lead inserts to protect against electrons, x-rays and gamma rays.
heat absorbing core with modified seals, for smoke control.
fire retardant core with additional intumescent seals, for fire control.