Diamond Series
A fully frameless all glass revolving door. Designed and manufactured in Australia.
The Diamond Series revolving is the result of record's experience in the areas of revolving door technology and structural glass engineering. This door was developed in response to popular demand for the most frameless revolving door possible. Its clean and uncluttered appearance belies the complication of its design.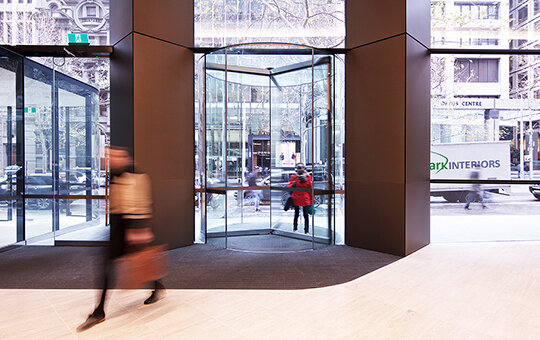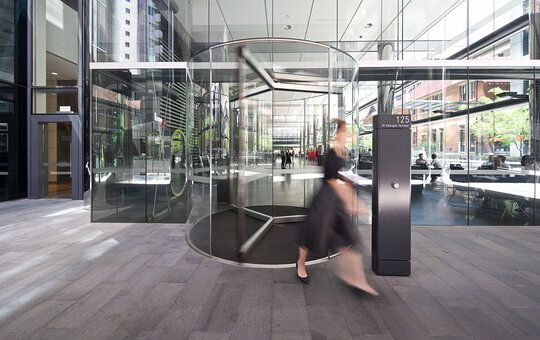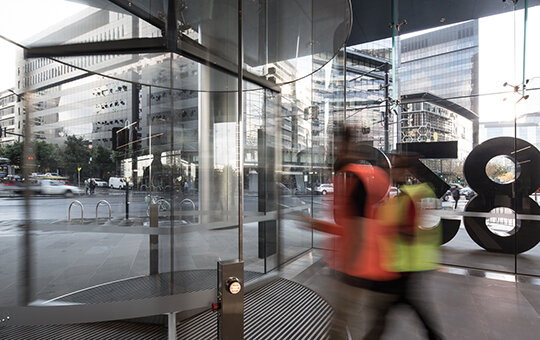 Taking glass engineering in revolving door design to a new level, the entire door structure of the Diamond Series is designed to be self-supporting, with the glass roof structurally glazed to the glass sidewalls, whilst still accommodating the dynamic loads of the rotating carousel. This design, has made it an architectural favourite since 2008 for its ability to seamlessly integrate with, and complement, frameless glass assemblies.
There is no requirement for any kind of portal frame or perimeter ring beam to provide structural support to the door. The electrical drive motor can be contained in a pit in the concrete slab, or if there is a suspended slab, it can be mounted to the underside for ease of access when servicing. Or for a more cost effective solution, more suitable to smaller diameters, a manually operable Diamond oor can be provided.